Buy 🏝️Far Cry 6 GOTY {Steam Gift/RU/CIS} + Gift🎁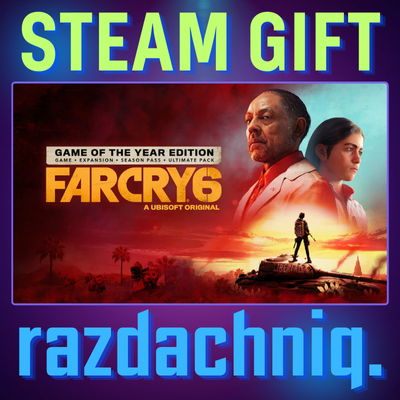 Sales:&nbsp

3

Type:&nbspKey/Gift
Seller discounts
on all items
Discounts are available for regular customers.
If the total amount of purchases from the seller ⭐razdachniq.⭐ is more than:
🚚After payment, as soon as possible, you will be sent the game "Far Cry 6 Game of the Year Edition" for "Steam" + a gift for a positive review: the key to "Steam" from a random game.
✅Receiving instructions:
1. Specify a link to your "Steam-profile".
2. Choose a region and a suitable payment method.
3. Pay with the chosen method.
4. Send a unique code to the "Correspondence with the seller" section.
5. Accept a friend request from the seller.
6. Get the game as a gift!
💰To pay with a minimum commission, use: "YooMoney", "QIWI", "Enot.io" or "Freekassa".

🔥Get the definitive experience:
• Far Cry 6: Play as Dani Rojas as you fight against Antón Castillo's oppressive regime – alone or in co-op.
• Lost Between Worlds, the surreal expansion to Far Cry 6: Conquer 15 unique life-or-death trials in this thrilling new chapter of Dani Rojas' story. A rich, action-packed gauntlet with deadly crystal enemies, multiple player paths, all new lore, and a variety of unique gameplay challenges. Test your wit, prove your skill, and overcome death itself – or be lost forever.
• Far Cry 6 Season Pass: The season pass includes 3 DLCs and Far Cry 3: Blood Dragon. Play as villains Vaas, Pagan Min, and Joseph Seed as you delve into their psyches.
• Ultimate Pack: Jungle Expedition Pack, Croc Hunter Pack and Vice Pack.

🌎Available for accounts with the region: Armenia, Azerbaijan, Belarus, Georgia, Kyrgyzstan, Kazakhstan, Republic of Moldova, Tajikistan, Turkmenistan, Uzbekistan, Ukraine, or Russia.

🎮Steam Game Page: https://store.steampowered.com/app/2369390/Far_Cry_6/

✍🏻To receive a gift, you must leave a positive review with a couple of kind words. And clarify that you want a gift, in correspondence with the seller, on the page of the paid product!

📝If you have any questions, please contact the seller in any way presented and convenient for you. He will definitely answer and help you.
🔓To receive the "Steam Gift", please follow these instructions🔓
● Download and install "Steam client": http://store.steampowered.com/about/
● Register a new account or log in to an existing one.
● Copy the link to your "Steam profile" in the specified field when purchasing the game.
● Wait for the seller's friend invitation and accept it.
● Get sent gift!

💬Please do not leave negative feedback before contacting the seller, in most cases the problem will be solved as soon as the seller reads your message. Thanks for understanding.
Positive
Все отлично. Быстро совершили сделку. Лучший продавец
Positive
Продавцом доволен. Возникли небольшие недопонимания с ним, но в этом была только моя спешка и невнимательность. При этом продавец все быстро решил и Гифт пришел за минуту)